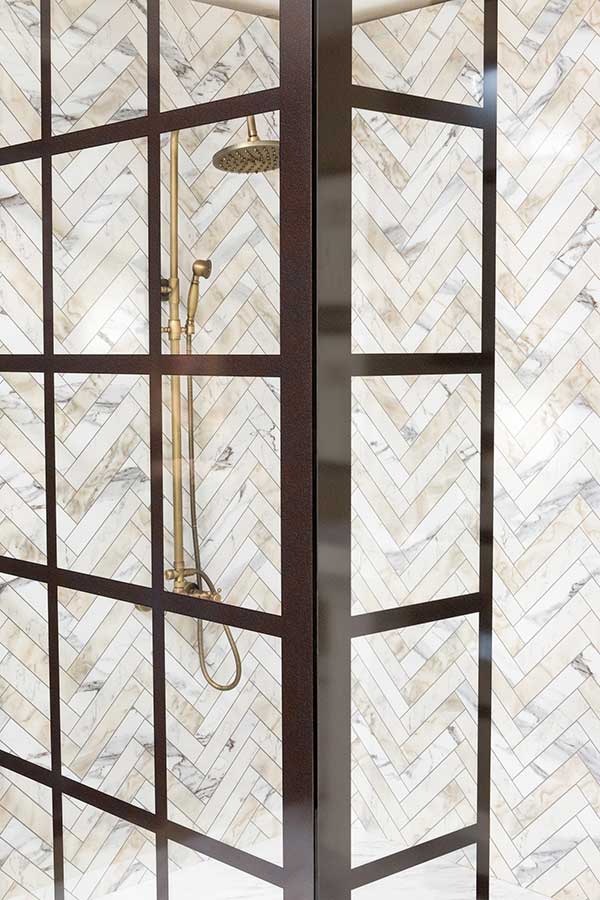 What Is a Mullion Glass Door?
While you may know it as a "telephone booth shower" or "grid shower", the more technical name for this eye-catching style is a "mullioned shower." The design is graphic, simple, elegant, and timeless. People are often drawn to these doors' vintage, industrial appeal.
How Are Mullion Glass Doors Created?
In some traditional applications, metal intersections connect individual panes of glass, while other designs are engineered by applying metal braces over sheets of glass to create the stunning grid.
HMI Glass, however, brings modern technology to the mullion glass door, completely changing the game.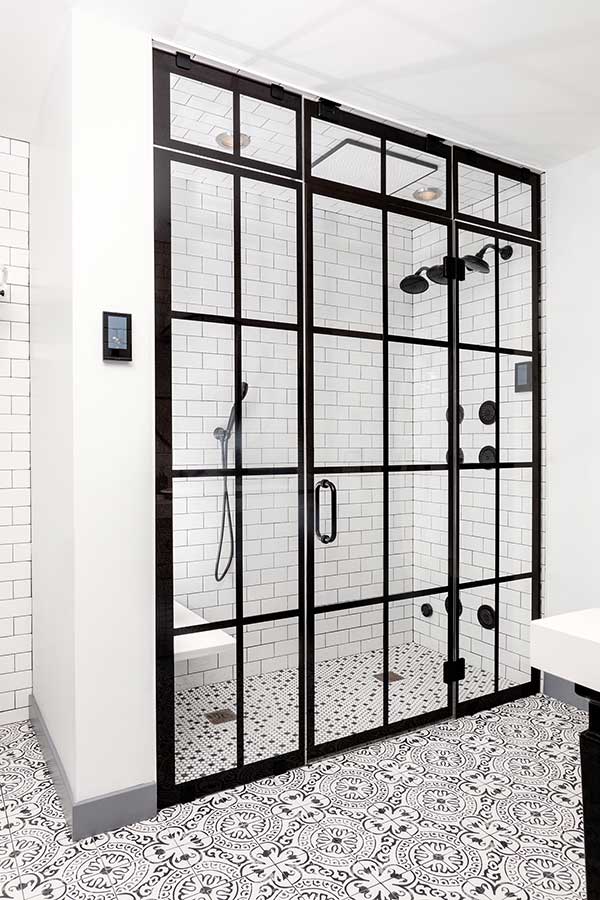 Meet The Vista Series by HMI CANVAS.
These grids are not printed on glass, but rather in glass.
Unlike previous methods of glass printing, HMI CANVAS technology uses ceramic fritted inks that fuse and become one with the glass during the tempering process. The result? Scratch-resistant, fade-resistant, antimicrobial works of art.
Easy-to-Clean Mullion Glass Doors Have Arrived.
When made the old-fashioned way, mullion doors can be hard to clean. Soap and residue can get caught in the raised grid lines, allowing bacteria to form in the crevices. But don't let this burst your shower dream bubble! There is another way.
Since Vista Series by HMI CANVAS creates grid lines within the glass, the final result is smooth to the touch and compatible with C10 clean coating. The doors are just as easy to clean as wiping down a single piece of clear glass.
With no raised surfaces to scrub, you'll get beauty and functionality. You really can have it all!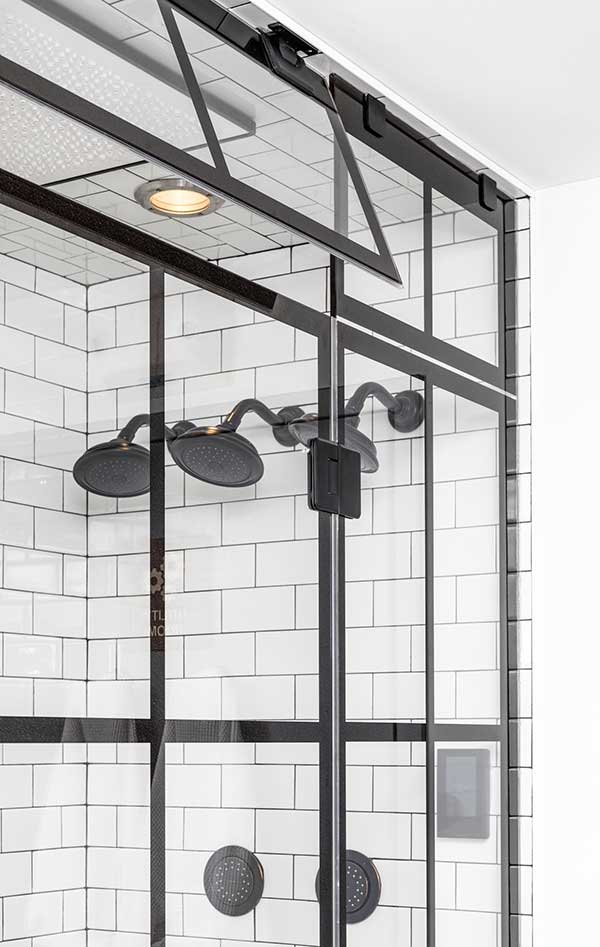 Customize Your Vista Series Shower Door.
'Vista Series' is stunning as a frameless shower, but just as sophisticated paired with an HMI Platinum framed enclosure. You could add a transom and create a steam shower! The possibilities are endless.
Go ahead, play with hardware tones – this "new meets old meets modern industrial" aesthetic works as well with shiny chrome hardware as it does with matte black, oil rubbed bronze, brass, and beyond.
Don't be surprised when your guests are impressed – they will probably want to copy you! With fully customizable variations available in grid line thickness and placement, every 'Vista Series' shower can be a unique work of art. Rest assured your friends 'Vista Series' grid shower won't be exactly the same as yours!
Unlike other glass screen printing methods, there are no minimums required to produce HMI CANVAS Digitally Printed Glass. Welcome to custom shower design at it's most accessible!
To get started, let your architect, your builder, your interior designer, and certainly your glass installer know that you would like to specify a "Vista Series" custom shower by HMI.
Vista Shower  - Technical Info at a Glance
Grid showers are compatible with any custom shower installation

Sizes and layouts of grids will vary based on shower dimensions and preferences

Compatible with HMI C.10 Surface Protectant

Recommended on both low iron and clear glass

Grids can be printed on the inside or outside of the shower for a glossy or matte appearance.

Steam shower? Design a custom transom window incorporating the grid.

Play with a variety of metal hardware finishes for a truly custom aesthetic.