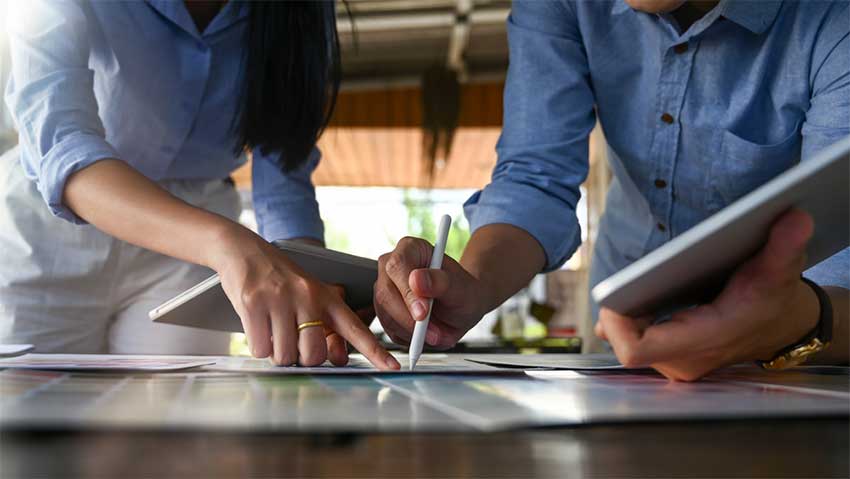 Any given hospitality or multifamily project requires an endless number of decisions by the interior design and architectural team. With a sea of options, finishes and configurations available, the specification process is a beast to tackle. Within many manufacturers product lines there are standard options and custom options which can also add to the confusion, as well as "off-menu" capabilities that are only revealed through collaborating with the artisans within the organization.
When speaking with design professionals, one common difficulty in their daily workflow is the creation of sheet specifications and finish schedules once material and product selection have been completed. One way that manufacturers can help designers gather the information they need is by having websites that accurately and beautifully represent their products, so they are able to snip photos, organize and specify those products for use in projects. Making product information, as well as specifications and other supporting documents readily available is critical.
Example: https://hmiglass.com/tech-info/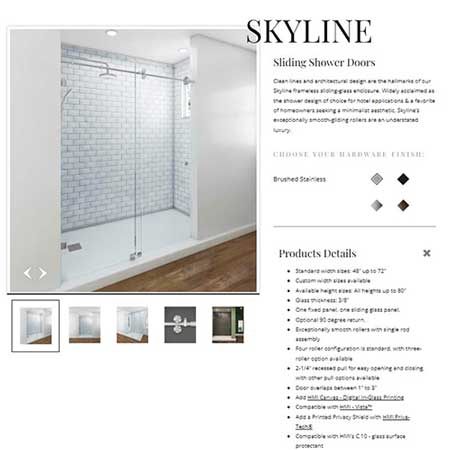 One mistake manufacturers make is hiding this information behind a data capture wall that requires the designer or architect to provide contact information in order to download the information they need. This is an obstacle that will turn away designers and architects and create a negative online experience with the brand.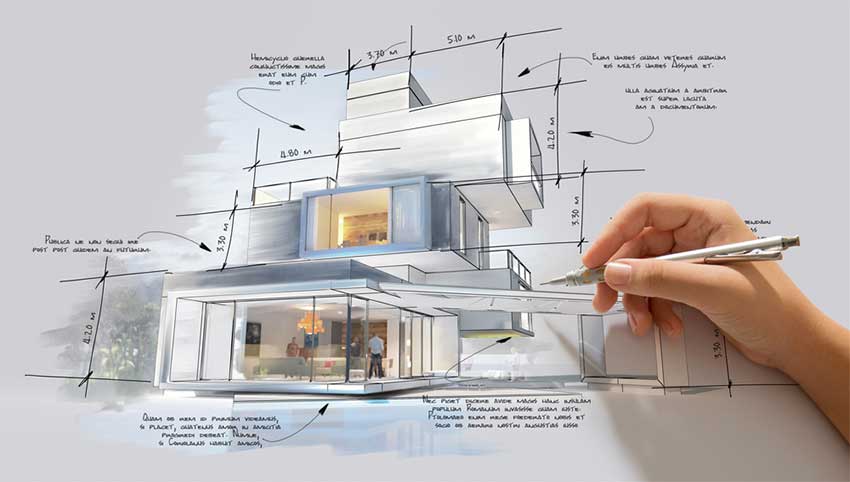 Another way manufacturers can help with project specifications is by offering design and specification assistance during the design phase. Many times, manufacturers see the project specifications for the first time when bidding the project. At that point it is too late to assist with correcting a design flaw, adding missing information, suggesting cost saving alternatives, etc.
By involving a manufacturers trusted advisor in the spec writing and product selection process, design studios and architectural firms can greatly reduce the possibility of time-sucking RFI's down the road. On average, a single Request for Information (RFI) costs about $1,000 in administrative and professional costs.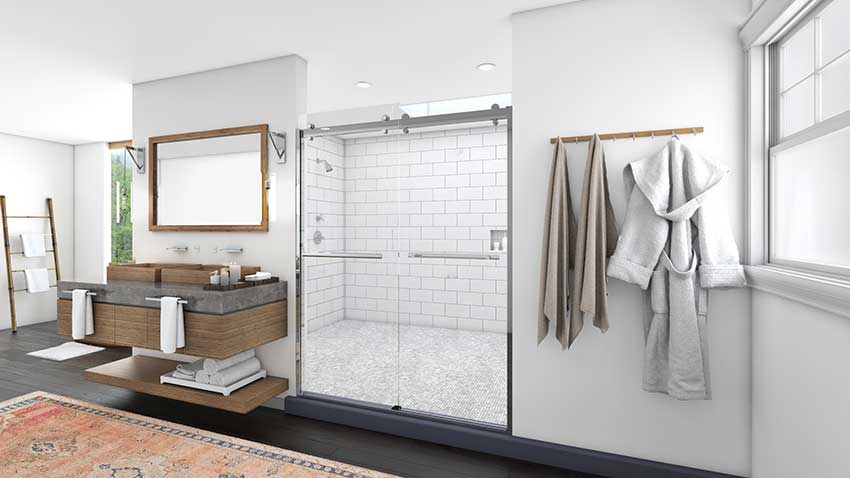 With shower enclosures specifically, recurring issues tend to get duplicated from one project to the next. A manufacturer partner can help steer the material selection in a way that will ensure client satisfaction far beyond project completion. Most architects agree that building relationships with manufacturers is critical to their success professionally and the same is true for building product manufacturers. Guiding architect/designer partners toward products that meet the design intent should be the goal of the manufacturer consultant, not selling the product.  
A recent survey by Interior Design found that of the Top 100 Giants (interior design firms ranked by interior design fees in a 12 month period), the business trend data suggests that the third largest business challenge they are facing is dealing with clients' increasing demands. What better way to distribute that added load than through leaning on your product manufacturer to advise solutions that just…work? When the product matter expert is involved in writing, reviewing, or editing the specifications for their product or product category, the client wins, and demands are exceeded.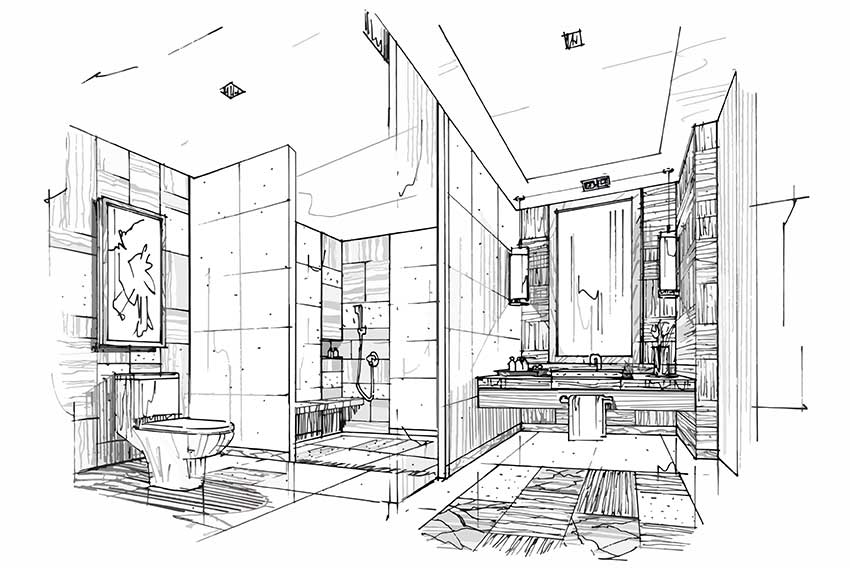 So how exactly can this trusted advisor help during each phase? Let's take a look:
Programming Phase: It's all about budgets, rough ideas and dreams. We can help in this stage by providing budget numbers and explaining possibilities. Remember, when you design #showerfirst, the possibilities are endless. Why not wow your client with an option for a geometric floral pattern on the glass? Biophilia meets glass through digital printing
Schematic Design Phase: This is the time to look at how layouts flow or don't flow. Let's make sure we don't put that towel bar behind the door or block the door swing with the toilet. Also, just as a heads up, hinging the door that way will double the cost of the shower doors. This is the time to discover these items before they become a nightmare later.
Design Development Phase: Remember that dream phase where we sketched out a concept for a frameless shower with the digitally printed, geometric floral pattern that seamlessly tied the color palette together? That was fun. Now let's get the artwork and colors finalized and approved by the client and nail down the hardware finishes.
Contract Documents Phase: Specifications are the beast we talked about earlier. We can help with writing a spec that makes sense for your project. We often see multiple quote requests for the same project come across our desks that are requesting vastly different hardware options, glass options, etc. Specifications will always have some amount of interpretation required, but accurate quotes begin with accurate specs. Accurate specs reduce the need for interpretation. The four "C's" win the day with specifications; Clear, Correct, Concise and Complete.
Permit Phase: Manufacturer: provide final lead times for material, minor tweaks to shop drawings and any last-minute documentation for permits. Designer: thank your lucky stars to be working with a domestic manufacturer and sleep easy knowing your material will not be taking an unexpected dive to the bottom of the Pacific Ocean or be held up offshore.
Project Administration Phase: We can provide contractor support throughout the project with installation questions, shipping releases, replacement parts, etc. We were here before the project began and we will be here to support our product until it is retired from use many years from now.
My name is David Corle. I am the Director of  the National Hospitality Division at HMI Glass. After spending time in the project management side of the glass industry and seeing the estimating side of the construction industry, my passion to help educate the A+D community is driven by a desire to make things easier for the professionals that design the beautiful hotel and multifamily projects that we manufacture shower doors and decorative glass for.
I can help answers these questions and more:
• What is SGCC Certified glass and why should I demand it on my project?
• Do I have options other than clear or tinted glass that will make the project stand out?
• What is digital in-glass printing and how can I use it in my project?
• How can I avoid specification conflicts and make sure glass and hardware is compatible?
• Why glass coatings are important and how to specify them.
• Where do I place the towel bar in the bathroom, and can it be integrated into the shower?
• Are shower screens (aka, splash panels) without doors a good idea?
David speaks to some of these questions in the recent Peopleverse podcast with Evan Troxel. You can find that podcast here: https://youtu.be/-oil2HjWzVw
Email David at dcorle@hmiglass.com to set up a consultation session for your existing or upcoming project.