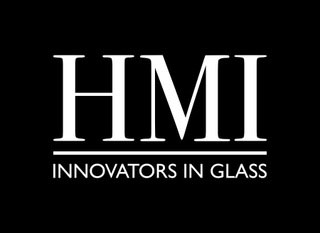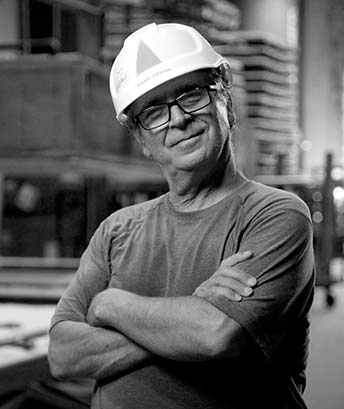 Behind the Glass

Meet Fred diFrenzi,
HMI Artist-in-Residence
and Pioneer of Cast Glass
Four sheets of cast glass rest behind Fred diFrenzi as he talks in his Louisville home. Each piece is a different color, shape, size and pattern. Each piece reflects the room's light differently. And each piece tells a story of an artist who has revolutionized the medium of glass for over 30 years.
As HMI's artist-in-residence in the Louisville facility, Fred leads the company's cast glass (also known as kiln glass) production - a process that very few custom glass companies in the U.S. still employ. It is there in his factory floor "laboratory" that he also studies the technique and artistry of creating cast glass, collaborating one-on-one with architects and designers to make distinct works of art.
Fred uses cast glass as a canvas to play with clarity and obscurity, a source of light or privacy.

There's always that optical interaction with textured glass. Obscurity can be integrated with the design. It's certainly an interesting feature. It's what happens on the back side of that glass - the obscurity and distortion that happens with the image."
Fred works with cast glass in two ways. The first is by using one of several proprietary molds he has designed, creating glass that mimics textures like lava, leather and linen. The second is by working directly with architects, designers and homeowners to create a bespoke design exclusive to their project.
To create custom cast molds, Fred has been found using elements such as sand, corrugated cardboard, discarded laser-cut metal, and more. Everyday household items lend a hand—a timeworn push broom, a sandpaper sheet, kitchen knives, serving spoons and common toolbox treasures—creating the pattern and texture for the glass to take shape. He then lowers his custom-built kiln onto the table, surrounding the glass in heat. As the glass transforms from a solid state into a more plastic and pliable substance, it adopts the unique shape of the mold. When Fred removes the glass from the kiln several hours later, the glass's surface is transformed into a captivating, tactile piece of art.
As he talks about the marvels of his medium, Fred's face softens.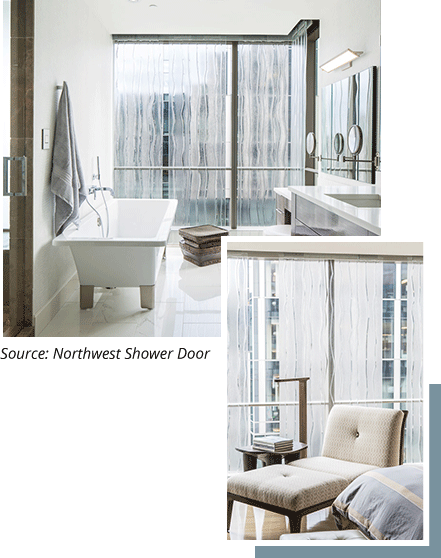 It's the transformation. Taking a sheet of ordinary glass,
and through ingenuity and knowledge of the process,
turning it into something to look at. You put something in
[the kiln] one day, pull it out, and it's a lot more
interesting."
Fred might best be known in the art world as a pioneer of glass vessels, large bowls used as an artful alternative to the traditional sink basin. In the 1980s, he partnered with a major bath fixture manufacturer to develop the vessels and sell them to design-oriented homeowners. He later saw cheap knockoffs of his artistry hanging from the walls of a big-box home improvement store. Fred's vessels have since become ubiquitous fixtures in bathrooms across America.
In the early 1990s, Fred met HMI founder and visionary glass enthusiast, Don Ross.
Intrigued by his diverse and enthusiastic new friend, Fred agreed to help Don build a studio where they could fabricate heavy glass, dream in texture and play with pattern, all in the name of creative shower design.
Today, HMI's glassmaking studio includes six large-scale ovens and entire teams of artisans who craft glass pieces for residential and commercial spaces.
"One Of The Most Amazing Discoveries"
Fred points back to the sheets of cast glass behind him, each a product of a different experiment in texture and light. He experiments with and tests the limits of glassmaking daily. Decades into his love affair with glass, he talks about the medium as if he has just lowered his kiln for the first time.

Thousands of years ago, people would find sand pits struck by lightning, leaving behind a glassy substance. It's really captivated our attention. It's one of the most amazing discoveries as a material. It just continues to evolve."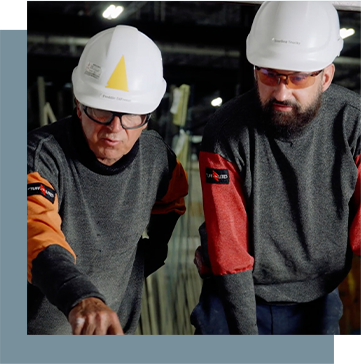 Meet Sterling Stucky
Artisan Assistant
Fred diFrenzi's right-hand man is sometimes standing to the left of him at the kiln, but make no mistake—Sterling Stucky is an essential part of HMI's artisan glass division. A veteran of the company, Sterling has spent the past 11 years working his way through the ranks of HMI's fabrication departments. It's safe to say that in his first decade with HMI, Sterling had operated every machine on the factory floor before landing in the artisan glass department a year ago.
What does he admire most about his mentor?

Fred's expertise and guidance have propelled my career, for sure. But it's his integrity as a person and a family man that I admire most. I believe that if someone loves their family as much as Fred does, they will always love their job. Because at the end of the day, providing for your family brings true joy."
As for Sterling's take on cast glass?
HMI is the perfect partner for designers, architects, and homeowners who are looking to push what is possible and design on the cutting edge.
Fred, Sterling and their team of glass artisans can transform your vision into a one-of-a-kind piece of art. Appoint your home or business with a show-stopping work of cast glass for a special accent that sets your style apart.
If you are an Interior Designer, Architect or Hospitality Project Manager interested in working with HMI, please contact:
David Corle, CSI
Director A+D Relations
dcorle@hmiglass.com