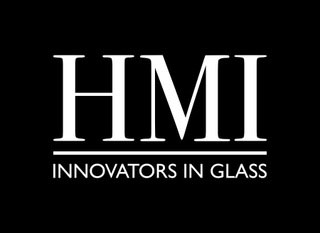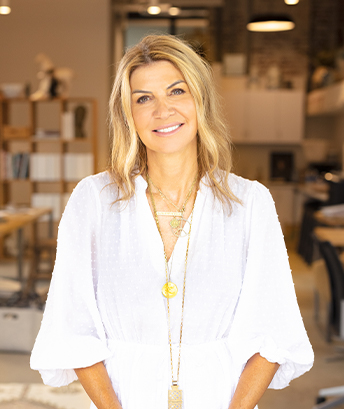 Behind the Glass

Lisa Sherry Partners with HMI's In-House Design Team
When interior designer Lisa Sherry @lisasherryinterieurs wanted to create exquisite spaces in her personal lakehouse, she turned to HMI to help bring her vision to life. HMI's design process, attention to detail, and immaculate execution were a perfect fit for a designer of Lisa's caliber and allowed her to achieve results with glass that she didn't even know were possible.
Although she has been designing for over 20 years, HMI's shower-first approach to bathroom design was new to Lisa, inspiring the look and feel of each space.

Shower glass was never something on my radar for being anything other than clear. When I was introduced to HMI, I was introduced to what all the possibilities were. For me, it was really exciting because it's like finding a piece of art for a client or that right pillow or that right fabric. It was a lightbulb moment."
Go behind the glass and see how Lisa customized each shower with one-of-a-kind glass.
Digital In-Glass Printing
HMI is proud to offer digital in-glass printing as an essential tool of the craft for interior designers, architects, and homeowners. Our digitally printed glass is antimicrobial, easy to clean, and virtually limitless in design.
HMI's In-House Design Team
HMI's in-house design team served as an essential partner for Lisa from start to finish, offering the best in design expertise and product craftsmanship. The team works alongside each HMI customer to provide education and then create stunning, original shower glass that can inspire the entire bathroom space.
Each of Lisa's shower glass projects were installed at her personal lakehouse. The four showers represent an array of what is possible with digital in-glass printing – and this is just the beginning.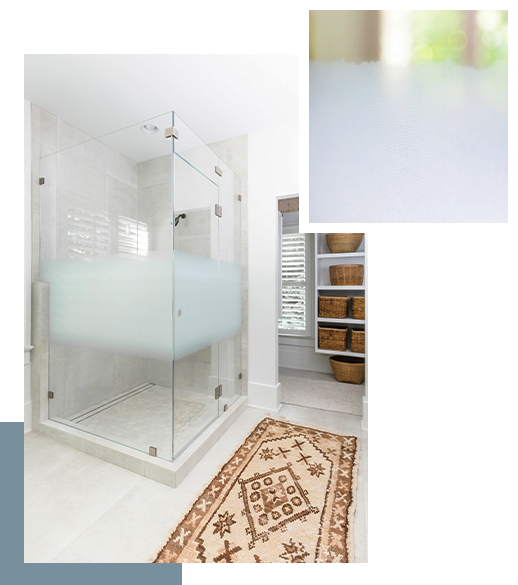 Lisa's primary bathroom is bright, open – and right off the primary bedroom. To create a sense of privacy, she went with printed Priva-Tech® glass that levels up from the sandblasted glass she has used in the past.
Lisa was inspired by light, airy linens and customized the privacy band to look as though the shower is wrapped in an off-white fabric. The frayed edge and beautiful texture were executed perfectly through digital printing.
Learn more about HMI's custom Priva-Tech® options here.

Lisa lives by quotes. These mantras appear throughout her client work to allow for the ultimate self-expression. In her upstairs guest bedroom and bathroom, Lisa wanted to incorporate a subtle, daily reminder to practice optimism.
The Quip shower is a traditional clear shower that features digitally-printed script along the edge for a surprise element of personalization. Learn more about HMI's custom Priva-tech options here.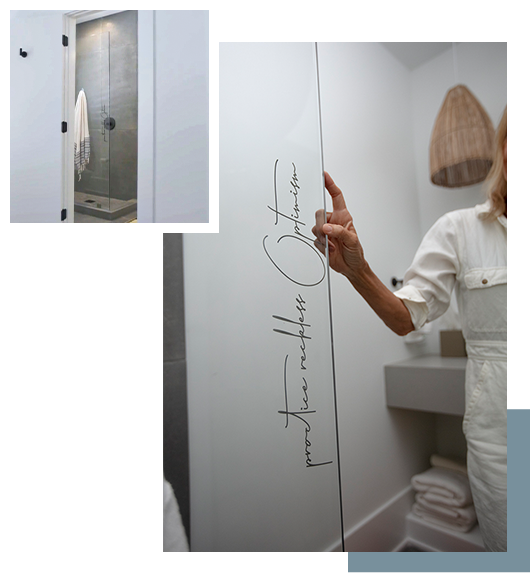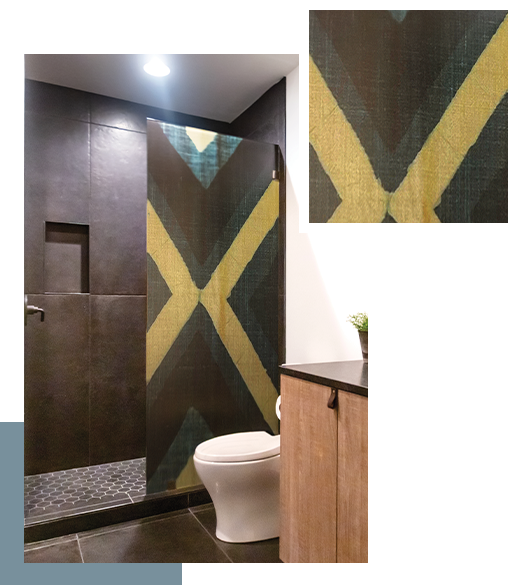 Who knew you could find texture in a glass? With digital in-glass printing, you can. Lisa took inspiration from an image of an antique rug to create her third shower.
The downstairs of the lakehouse is bold with dark walls and black decor. Her custom Ikat shower fits perfectly into the space with its rich colors. At a glance, the shower glass comes off as a vintage textile—you'd never know it's completely smooth to the touch (and easy to clean!).

The fourth shower represents the utmost in personalization, featuring a design from Lisa's son Ned. As a graphic designer, he was able to incorporate the elements of clear glass and modern shapes to create a one-of-a-kind look.
The shower door features a round finger pull to minimize the hardware and keep the focus on the graphic.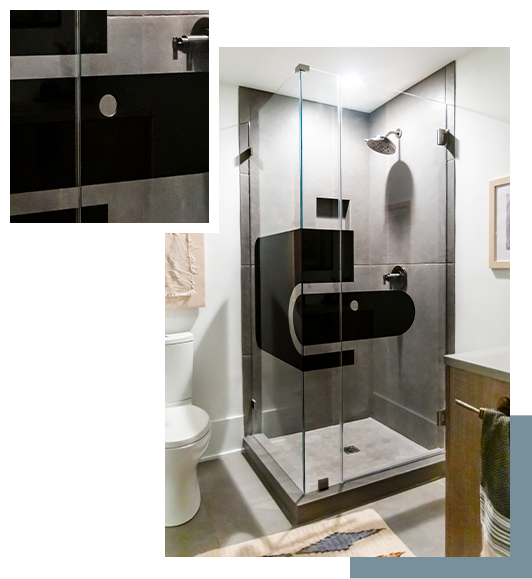 As true innovators in glass, HMI can help you try something different and learn something new. HMI is the perfect partner for designers, architects, and homeowners who, like Lisa, are looking to push what is possible and design on the cutting edge.
Lisa's personal project with HMI has opened a whole new world of bathroom design that she can't wait to offer her clients. Want to do the same?
Interior Designers, Architects and Hospitality Project Managers interested in working with HMI, please contact:
David Corle, CSI - Director A+D Relations dcorle@hmiglass.com
Thank you to Allegiant Glass & Shower Doors in Charlotte, NC for their impeccable installation of Lisa's showers.
Allegiant is a proud member of the HMI Elite Pro-Glazier Network.